Our Roots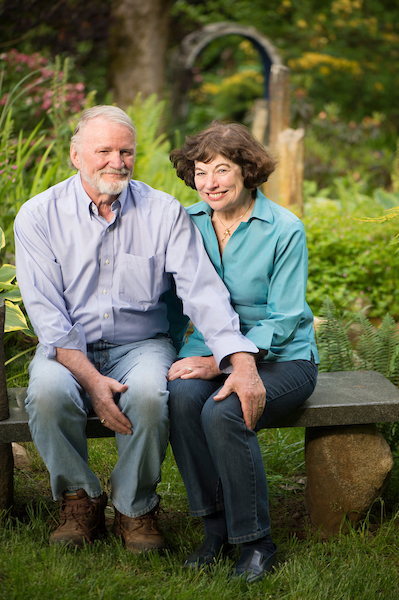 Dick and Betty O'Brien in their expansive gardens.
Dick and Betty O'Brien
Dick and Betty O'Brien married in 1967 and began building a life together on Betty's family's farm. Dick started teaching at Parrish Middle School and remained there for 30 years. Betty tried teaching too, but found that she had a greater aptitude for business and administration. She received a master's degree in journalism at Northwestern University and an MBA from Willamette University. She enjoyed several positions including her role as the Executive Director of the Santiam Girl Scouts. Neither had any interest in putting in the long hours of farming, as her family continued to do.
That all changed after a trip to Germany in 1980 where they stayed with a family that grew Riesling grapes to supply their own wine consumption. They returned to Oregon inspired and eager to plant a vineyard of their own. To convince Betty's father, Elton, she encouraged him to visit a winery in Napa, California. Skeptical, Elton and Peggy went to a Napa winery and were greeted by the owner. "He had all of the trappings of a solid farmer, right down to his John Deere cap and tractor." Elton was reassured that viticulture didn't have to compromise his strict standards and turned over five acres of the farm land to his daughter and son-in-law to plant grapevines. They planted Pinot Noir, Müller-Thurgau and Chardonnay.

Their timing couldn't have been more perfect. Oregon started seeing more and more acres of vineyards planted. In the same year they planted their first vines, Willamette Valley Vineyards Founder Jim Bernau, friend and college classmate of Betty O'Brien, began planting his vineyard.
Elton Vineyard grew over the years from five acres to more than 60 acres. When the O'Briens retired from actively farming the vines in 2007, they leased their vineyard to Jim Bernau. This paved the way for the establishment of Elton Wines in 2015 and gave the couple more time to create an exquisite 1.5-acre garden on the property.
There's more history to be made on this special land. A trust established by Dick and Betty O'Brien bequeaths the proceeds of their property upon their passing to Oregon State University and Chemeketa Community College, to help improve their viticulture programs and further cement Oregon as a world-class grape growing region.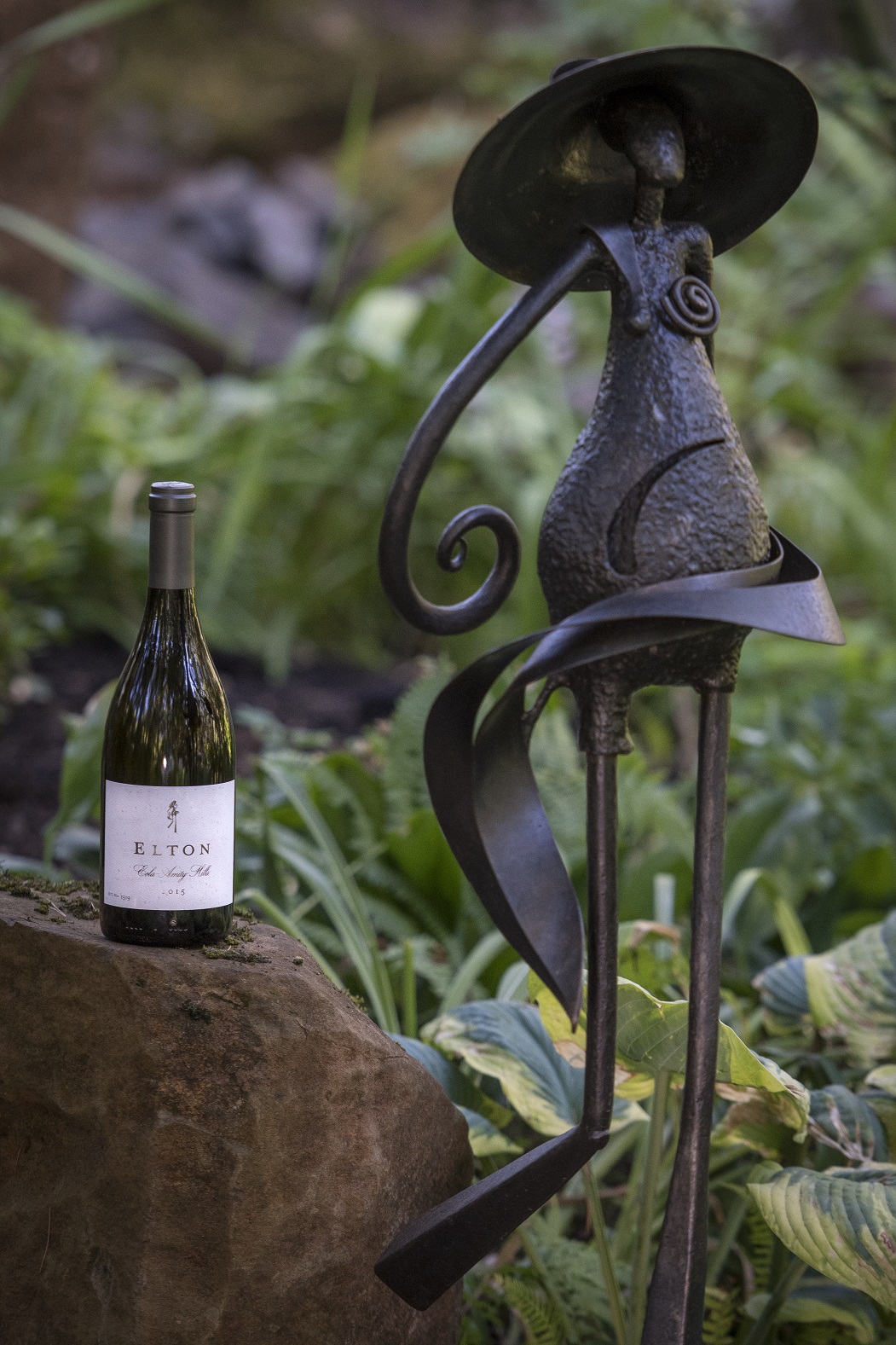 "She Danced in the Garden All Day with Her Hat On" by artist Rick Gregg.
Label Inspiration
The label for Elton wines was inspired by the expansive gardens created by Dick and Betty O'Brien. More specifically, it was one bronze sculpture gracing the garden that called out to be featured.
"She Danced in the Garden All Day with Her Hat On" was crafted by artist Rick Gregg, and later acquired by the O'Briens.